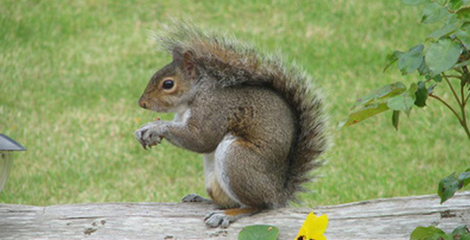 Pro Wildlife's Brantford Wildlife Removal Service provides wide range of squirrel removal and control services across Brantford at affordable prices. Squirrels are generally harmless when they are living in trees or outside your property. But, once they take up residence in your home or business, they can be destructive. They can also pose many serious health hazards. In a short time, they can create their home territories and create a lot of nuisance for you and your family.
Damage Caused by Squirrels
Squirrels can lead to numerous damages in homes and businesses including:
Create nest in attics, insulation and other materials
Chew wires, ducts & pipes
Carry parasites such as fleas, ticks etc.
Nest debris in attics
Their droppings can lead to various health hazards
Damage the lawn and vegetable garden
Health Alarms from Squirrels
The squirrel droppings can cause serious illnesses and create a lot of chaos for you and your family.
Squirrels host some deadly diseases such as leptospirosis and salmonella. They can be easily transmitted to humans through food contaminated with squirrel feces.
They are responsible for spreading diseases such as Lyme disease.
How We Deal With Squirrels?
At Pro Wildlife's Brantford Wildlife Removal Service, our professionals will first identify the potential entry points of squirrels.
Pro Wildlife's Brantford Wildlife Removal Service is a renowned wildlife control service provider across Brantford, ON. We provide professional and reliable solutions to remove animal from your premises in less time.
Call us to get Free Quotes for squirrel removal services.